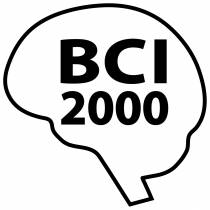 This is an announcement of the June 2010 build of BCI2000.
For changes between April and June builds, please see the following overview:
New features in this version:
Added lowpass option to SourceFilter which is present in a number of source modules (e.g., the gMOBIlab source module).
P3TemporalFilter now uses the NumberOfSequences parameter when available to determine the number of epochs to average.
Bug fixes in this version:
bci_dat2stream now uses float32 format when providing calibrated output signal.
Fixed a bug in TransmissionFilter and SpatialFilter which would lead to channel numbers being forwarded as channel labels.
P300Classifier does not crash any more when it is unable to generate feature weights. (C.M. Potes)
Operator modules' "Load Matrix" button now works correctly with values containing escape characters.
Changes to contributed code:
vAmp source module:
Impedance mode now works with vAmp8; better stability in impedance mode. (J Mellinger)
Impedances are now shown on the amplifier's display rather than a window. (J Mellinger)
Code concerning multi-amp use mostly removed (vAmp doesn´t support multi-Amp use) (M. Schatt)
Parameters that make only sense when using several amps have been removed ("DeviceIds", "SourceChDevices") (M. Schatt)
Improvements to Impedance view: Update the vAmp-Display less frequently (M. Schatt)
Use return values of Impedance API functions to improve error handling and prevent crashes (M. Schatt)
BCI2000 build history, together with an overview of changes between builds, is provided on the BCI2000 wiki at http://www.bci2000.org/wiki/index.php/BCI2000_Binaries#Version_History
We suggest that you always use the latest BCI2000 build, in order to profit from continuous bug fixes and feature additions.