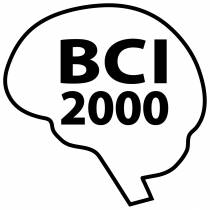 This is an announcement of the August 2009 build of BCI2000.
We suggest that you always use the latest BCI2000 build, in order to profit from bug fixes and feature additions.
Monthly builds, together with an overview of changes between builds, are listed on the BCI2000 wiki at
http://www.bci2000.org/wiki/index.php/BCI2000_Binaries#Version_History.
New features in this version:
New split_bcidat contribution allows splitting large dat files into smaller ones to work around 2GB file size limit when loading dat files.
Matlab-independent P300 classifier tool replaces P300GUI contribution.
Bug fixes in this version:
Fixed treatment of state names beginning with "Signal" in ConnectorInput filter.
Fixed computation of SelectedRow/SelectedColumn states in P3SpellerTask.
Fixed BCI2000 Export tool which was broken in the previous bindist.