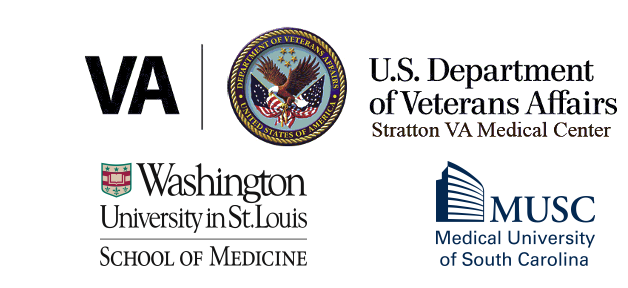 Scientific and Engineering Principles of Adaptive Neurotechnologies
To apply for the 2021 Focus Course, 

click here
Adaptive Neurotechnologies
The rapidly growing field of adaptive neurotechnologies applies recent advances in neuroscience and engineering to establish real-time adaptive interactions with the nervous system that enable new scientific understanding and generate new therapeutic and diagnostic methods. Examples include brain-computer interfaces, deep brain stimulation, and operant conditioning of spinal reflexes. The realization of these technologies involves neuroscience, biomedical engineering, signal processing, mathematics, computer science, and clinical and commercial domains. Thus, their development and dissemination require leaders with knowledge and expertise that span all these disciplines.
Goal of the Focus Course
This Course provides scientists, engineers, and clinicians with scientific and engineering knowledge needed to understand and participate in the rapidly growing field of adaptive neurotechnologies. The Course will provide participants with a:
• Comprehensive grasp of the basic theory and practice of adaptive neurotechnologies;
• Understanding of the scientific and clinical potential of these technologies; and
• Exposure to the practical application of adaptive neurotechnologies to real-world problems.
Who should apply?
Early to mid-career scientists, engineers, or clinicians, e.g., junior faculty, postdoctoral fellows, clinical residents or fellows, advanced graduate or medical students.
Focus Course Design
This Course comprises lectures about and demonstrations of adaptive neurotechnologies. The Course is organized in four modules—Neuroscience, Engineering, Data Acquisition and Analysis, and Adaptive Neurotechnologies—that are presented weekly starting July 6 for four weeks. Each module comprises live and, in some cases, pre-recorded lectures with live discussions and relevant demonstrations presented during each week. The live lectures are presented on Tuesday afternoons, and demonstrations are presented on Thursday afternoons (~3 hours per session). Participants watch each module's pre-recorded lectures on their own schedule and submit questions for discussion with that module's faculty at the Friday discussion session (~1.5 hr), which also provides opportunities for networking with the faculty and other students. For the final demonstration session, participants sign up for breakout sessions with NCAN faculty for further discussion and demonstration of specific technologies and discussion of ideas for adaptive neurotechnology projects.
vvvvvvvv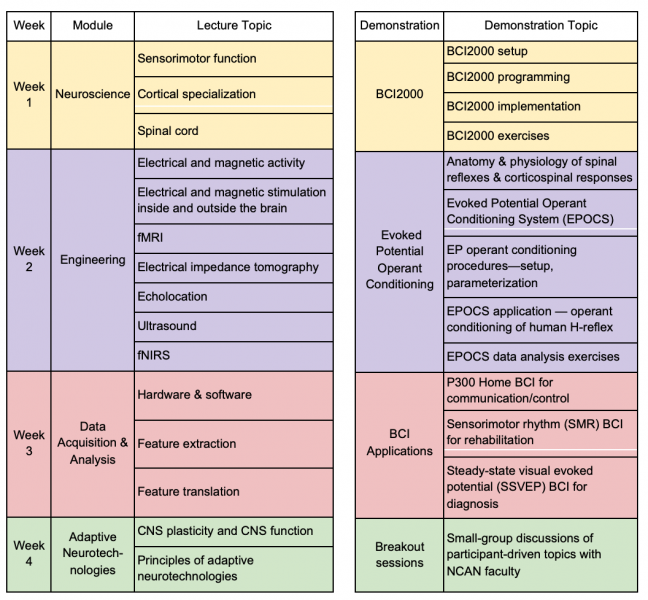 Confirmed Lecturers
Peter Brunner, Ph.D. (Washington University, NCAN)
Disha Gupta, Ph.D. (NCAN)
C.J. Heckman, Ph.D. (Northwestern University)
N. Jeremy Hill, Ph.D. (NCAN)
Dean Krusienski, Ph.D. (Virginia Commonwealth University)
Lee Miller, Ph.D. (Northwestern University)
Dan Moran, Ph.D. (Washington University)
Sumner Norman, Ph.D. (California Institute of Technology)
Yalda Shahriari, Ph.D. (University of Rhode Island)
Jonathan Wolpaw, M.D. (NCAN)
Applying for the Focus Course
Applicants must submit a curriculum vitae and a brief personal statement (no more than one page) describing their interest in the Course as it pertains to their career path. Early-career participants (graduate students, post-doctoral fellows) are encouraged to submit a letter of support from a more senior colleague. Click here for the application form.
The application fee is based on the career level of the participant. A reduced fee is offered for complete applications (materials and application fee) submitted by May 20. Application forms may be submitted at any time, but the payment site will open April 30 (please check back for account details). Applicants who are not accepted into the Course will receive a full refund of their application fee.